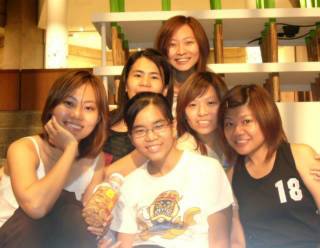 If only we could be together everyday!

Look at the smiles on our face!

Haha so long...
So long since i last blog. :) hmm so many things to write, dont know what to write first. haha. but if there is anything, it will have to be my stupid sore eye. so irritating. today my eye though not red but it have been giving me headache and giving me flu. Really dont know whats wrong with my eyes. I really prayed that I will recover soon. its so irritating tht it has been affecting my performance in everything. God, by your stripes I am healed! :-) So many things to do but so little time. Have been really lazy these few days. But xiaoser, I really enjoy helping out at the dialet church. so fun! but i guess it is because u and suting were there. Are we really going chinese church this week?
hmm...this morning woke up so early to meet Jin Lian n Sijia...haiz..got some scoldings but i admit i deserve it...haha...hmmm...went for 2 more services today...listen to message 3 times le but not sianz....its so interesting...i responded for altar call to heal my hurts...i stopped my self from goin down on fri...but yesterday God's presence was there n i teared....i went down n really felt so much better...hmmm...then went to help out in dialect church then i realise i need to brush up on my cantonese so much...i m a cantonese but yet i dun really noe how to speak...yeah..today learnt a few chinese words from one of the cgl in chinese church...Wo yao dao zhing guo zhuo xuan jiao shi...haha....hmmm...have been slowly helpin out in cg...dunno where God wants to to rise up....God...cg or usher?
ZPOP was great
ZPOP was great but tiring..haha....had a long time standing...but not as bad as my friends at the front..i get to sit..haha...coz i behind...hmmm....but SUN was great...Fabulous is the word...haha...hmmm....reach home quite late...goin to bed soon...yawnz
sick again
sad sad..haiz ..sick again...had diarrehoea...haiz...took MC today..yeah.,..so happy...finally after some time i got my tagboard up in my blog le...hmmm....wun be able to serve again tonight....sad sad.....hmmm....yesterday cg message was powerful....yeah..we always will find 101 reasons not to pray,go church,cg,etc....haha...crucify ur flesh...Amen....hee....gotta go take a rest le...
read this
Thursday, August 26, 2004
i hope u guys will click this url as below and spend like 10 mins of ur time to read it.. its taken from my friend's blog.. a very saddening story which almost made me cry for the writer.. but i think it will be worth ur time reading it..
http://everythingabtme.blogspot.com/2004/08/story-to-share.html#comment
Wednesday, August 25, 2004
hmmm....yesterday life meeting was so funny...we had our 1st own puppet show...haha...din noe that the crusaders can be so drama n funny...think the freshmans really enjoyed themselves....hmmm....yeah...25hrs camp coming up in 2 weeks time..thanks God for raising up the freshmans to plan up this camp....wow....hmmm....finally our website is lanuch to the staff yesterday....hopefully we can introduce this website to the students soon....currently i have to upload the picture of our yr end camp n the info up on the new website...but dun really noe how to do it...hee....need help.....but i might not have a com at my workplace soon coz now i m using the server...since the website is launch..my com cannot e switched off so we have to put it in a cooler place...which means i wun have my com...sad sad....yesteraday finally get to have a great chat with my god-sister....it was a great tiem of sharing...a bit of heart to heart talk...of what she will be doin since she have graduated...n i share what i would like to do after my graduation...its very fast de...8 more months n i be out in the world..
God is good
This weekend is a busy weekend for me but a happy 1...hmmm...friday i went for svc n the message is powerful...saw how the Holy Spirit work...wow...powerful sia....hmmm...dun even noe how to discribe....hmmm....i m so glad that Huiyi is slowing opening up...really hope she can get out of what she is facing now....hmmm...sat i jus start my work...hmmm...well...the politics here is bad....hmmm...but my managers treat me well...thank God for the favor....hmm....yesterday went for svc 4 n 5...stay in church the whole day for Mr Dudu Fisher concert...it was a great concert...n Pst Sun sang...wow..her voice is really great...hmmm..ya...fri we saw her baby's ultra scan in church...her baby so cute...18 weeks le..wow...thats fast...hmmm....have been really pondering between cg n ministry...really thank God for giving me soem solutions....but will have to speak to Sijia n Bro Edmund 1st...hmmm...well...thats all....=) and ya..by the way...Praise the Lord,my support raising hit 88.5 % le...goin to hit 100% soon...
hihi....hmmm...feeling so happy today........y lei?cause yesterday finally get to c my members le...din c them for cg last week n din really have the chance to talk to them during service...yesterday finally get to c them le...i really miss N256 a lot...though its jus for 1 week...and the message yesterday was great..yes...wat it takes to be a leader...or rather a good leader...it applies to me in not jus in church,my ministry...n even in sch..yeah...hmmm...this weekend is an excting weekend i believe...hmmm...Pst Ulf Ekman will be preaching in all the services...anf Hillsongs United will be coming this sat n sun to lead us in a time of Praise n Worship...looking forward to it...n this sun evening i be goin for Mr Dudu Fisher concert...yeah...my weekend sounds so exciting..haha
Happy!!!
Wednesday, August 18, 2004
finally got something to do at my workplace le...so happy...hmmm..today finally submitted my support raising $$ to the national office....yeah..expecting my pay on fri...forget to mention that day..mon i went down to Thai Express for interview..i got the job..the timing is jus as flexible as my previous job..haha...n a higher pay...hmmm...God is good...all the time...yeah...hmmm...later goin back sch for bible study then tonight goin for Pst Peter Chu conference....brought my biligual bible...so heavy sia...hmmm...looking forward to the conference..its a healing conference...hmmm...y however i change the colors of the words..the color still remain the same...
Finally!!!
finally after many days of hard work..my mummy manage to get this blog look nice nice le...haha...me lagging le...my programming worse than her le...haha....great job,mummy...guess there are still lots of changes...haha....hmmm...must noe how to put our pics up..haha....hmm....yesterday when i call my jie..then i realise we so long din c each other le..i really miss her.. :_( she now so bz..haiz...jie..i miss u
Controversy
Today is my first day of school after an ultra long break! I still cant imagine school starts...hmm yesterday have nightmare, dreamt that I was late for school. Well mixed feelings...happy and sad at the same time, happy that I am graduating and next year I can go SOT but sad because this last term marks the final of my student life... sob sob. :)

Now in strategy class, feels wierd to sit back into classroom again. Humans are just born lazy. But I know God has create us to work. :) Haiz...what to do, I love God, so I must be hardworking for His sake.

School starts today and I just realised that I lost my pencil box, having been using that for so long. Think today after class I should go shopping for new stationeries. And I realised that my cashcard is lost, oh man, this is going to be a very expensive term. Prof just said that other than the normal TB, I need to spend about $50 on this course pack on Harvard Cases. Think I am going to stress on money again. Well...but God says not to stress! Phil4:6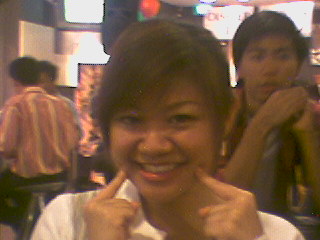 Hello

TIRED!
Wah....finally 15th anniversary over. So tired....whole body aching... :) But I really enjoyed myself. Yep..talk about food Ser...we have plenty..haha its like a whole weekend of fun and fellowship. And I really got to know so many people from this whole thing. People who are lame..hehe...come to think of it, there is quite alot of these kind of people in CHC. Haha. But very funny people they are, always never fail to cheer me up. Oh man, think I am really beginning to fall in love with lame jokes.

Now these whole thing over, I feel really funny. So used to rushing for this and that. :) I still prefer the term counselor ministry. Altarworker feel funny. Dont you think so? I think counselor ministry is a money giving ministry. haha need to call up or sms so many people...hehe

I am still very irritated by the fact that our blog still looks like this...haha...really hope I can change it to a nice one but it is so time consuming....irritating...haha
Exciting
wow..wow...wat a great church Anniversary we had over the weekend...hmmm...actually me only performing the skit for "Altar Worker Ministry", on sat afternoon...mummy called me and asked if i can perform for "Cell Group Ministry" as well...so in the end..me n mummy did 13 skits altogther...haha...though tired...but i pretty enjoy it....esp with the "Altar Worker Ministry"..cause we will always sing the chinese song in backstage when the "Chinese Church Ministry" is performing...we had such great fun...haha...maybe next year..we can represent the chinese church youth to perform...haha...hmmm...well...last week have been a tiring week for me as we had rehearsals to late night...1 sad thing is only 1 friend came to "support" me...haiz...hmm...such a rare chance i get to perform...well...this weekend i kept eating n eatinng...after each performance...we will jus go and eat...haha...hmmm...i also did a glitter tattoo my hand n as a result got scolding from my dad when i reach hm...haiz....ate lots of candy floss too..yummy...the food were nice n cheap...but din have time to take neo-prints with my friends...haiz..limited edition lei...haiz...hmmm...but nevertheless...i enjoyed myself through this tiring week...looking forward to CHC 16th anniversary..yeah....hmmmm..my attachment got 11 more weeks to go..this is the 7th week le...time flies...soon i be back in school for my FYP..wow...time really flies...8 more months n i m graduating....hmmm...dunno wat to do after upon graduation...get another diploma?go bible sch?come out to work?or work i n a christian organisation...these are the thoughts in my mind...
CHC 15th Anniversary
JOIN US AS WE CELEBRATE 15 PHENOMENAL YEARS!

An exhilarating time awaits you as City Harvest Church commemorates its 15th anniversary with song, dance and the dynamic preaching of God's word.

Celebrate with us a festive atmosphere filled with color & cheer. Watch out for the Parade of Ministries and don't forget to visit the Food Fair & Neo Print photo booths!

Join us as we experience God's presence and power together!
13 - 15 Aug 2004
Fri: 8pm
Sat: 4pm, 6pm & 8pm*
Sun: 9am, 11.30am* & 2pm
* These services will be simultaneously interpreted into Mandarin
CITY HARVEST CHURCH ~ 1 JURONG WEST STREET 91 SINGAPORE 649041
For more information,u can email me at ser0214900@hotmail.com
Attachment With A Difference
hmm...as some of u will have noe that my attachment is at Campus Crusade for Christ in the campus operations team...i need to raise my own financial support of S400 monthly...till now i have raised up to 79%..praise the Lord...anyone who wants to support me in my support raising can email me at ser0214900@hotmail.com so that i can email u my newsletter....Thank you
=)
Please keep me in prayers
Thursday, August 12, 2004
Who can be so unlucky like me..sick for 2 weeks le then sprain leg..leg ok le now got diarrhoea...feeling so weak now...haiz...God...help me...
Awesome Revelation Part II
On my way to see the doctor, I keep on asking myself, God, why? Why can't I just have healing? Why not? Maybe God intend for me to really rest at home? I was really so sick till I give up doing anything to make me feel better. I just give in completely to God, I remember making this prayer to God, "God, I just give myself into your hands. I am tired but whatever strength that is left in me right now; allow me to use it for you. From now on, everything I do will be entirely on your grace and strength, every step I make to church is on your grace. If you really want me to continue going for classes then You got to give me the strength and energy to do it." I never feel so submitted to God than I ever did at the point. The thing about this is, no matter how sick I feel, no matter how distracted I am by my own cough, flu and fever, I cant denied that I am still enjoying every bit of the classes. The laughter, the anointing, the presence can be felt even though I am really uncomfortable in my body.
Now I am finally better…fever is gone and I went through all the classes. Praise God for that. God is really good. He give me strength to do things that I never thought it was possible. One thing I really learnt out of this is all things are possible if you really just have faith and believe. And remember i mentioned about going to see the doctor...the medical fees amount to $100...and I am like...God I am so broke already! But God really bless those who seek Him first. My mum friend, an uncle learnt about this and pay for me in full! Praise God for that financial aid. I love you Jesus!!
Awesome revelation Part I
Previous days have been really a test of my strength and endurance man...haha it is like I am going thru mission impossible, classes after classes, while my temperature keeps on rising. I have nothing against packed classes but I have something against my stupid body when it is not working. But God have been so real to me these few days. Indeed, as the bible says, God is with us in all situations. On sat night, after coming back from classes, my fever actually rose to 37.8 nearing 38. I really feel nauseous throughout the whole leadership classes. While others were happily eating dinner during break, I have to run to toilet and vomit. I wanted to see a doc during my break but the queue was long. Throughout the whole of saturday, I wanted to give up so so many times. I wanted to call bro ed and tell him I really had no strength to attend the classes. I wasnt really at my top form. But on the other hand, my spirit man was telling me to go on cause he wanted more and more of God. Never feel so tore apart with my thoughts before. The temptation to give up is so strong, but the desire to know God was strong too. The thought of giving up and attending the next leadership classes was really strong, but something in me just didnt want to give up. Was it stubbornness? or was it something more? I think it was faith. It was faith and love that keeps me going. Faith in Jehovah Rapha and love in the word of God that keeps me going. I asked myself countless of times throughout the day, "Amber why are you so persistent? You can just go home and rest if you want to. Bro ed is not going to kill you for that." But something, there is just this something in me that keep on going on. I decided the best thing to do in this solution is to pray. While I was praying, I keep on remembering bible verses that promise healing. It's like machine guns that keep on firing, one after another. Throughout all these verses, the main point can be summed up to, "Faith and believe" I knew that God wants me to have faith and believe in Him. So I just persisted on. After the class end, my fever worsened and at night, I have to take a cab to 24 hr clinic. I was upset because why didn't my fever get better? why wasn't I heal yet? Now I even have to incur more expenses?
Yawnz
Finally after some time...the new look of my blog is up...i always wanted a black background....hee...but think the colors a bit wierd...but lazy to think le...tml bah...mummy...give some comments ya...today so tired...went for the Parade of Ministries rehearsal yesterday n it ended quite late...in the end we have to take cab home....hmmm....everyone found their partners to share cab home except me...haiz...so sad...have to go home alone...haiz...how to act the sad look of not having friends...its like so hard...hmmm....had a hard time yesterday...cannot stop laughing...haha...me so joyful...its a great challenge to call me act those sad face....haha...esp when i c my friend...i cannot stop laughing...haha
=)
Wednesday, August 11, 2004
Hmmm...so long din post anything...haha...hmmm....Mission Impossible on Monday was great but i injured my leg...sprained my leg...sob sob..jus went to the chinese doc yesterday n now my leg in bandage...sob sob...n it cost a bomb...haiz...pay haven come in already so much $ flying away for the doctors...haha...yeah..latest news...my support raising have already hit 73.5% monthly...Praise the Lord...Indeed God is so good.....the rest of the week is goin to be so bz for me..goin back to church for reahearsals today n tml till late at nite....then have to go for every services for this week as well..but i am happy to be able to serve God...yeah....yeah...finally pay off my bills...my phone line is reconnected n my internet is back...but dunno y my mouse not working...i move it can only move left right..cannot move up down...sob sob...hmm...anyway these few days no time to go online when i reach home
Aching all over
Wah...after so long, I can finally blog... :) So tired today! my whole body aching from the mission impossible. I didnt realised it was so tiring until I woke up this morning. Did I actually walk that much or do so much? Well I guess I did, but I guess everyone feel the same, maybe the youths will feel much more tired than me cause they actually walked for hours. But I really feel so happy after this whole event. Cause we managed to bring in quite a number of friends! Thank God for that. Hope the friends enjoy themselves! =) I have been so so so busy for these past few days! and really sick too.
Scary Day!!!
Saturday, August 07, 2004
hee...so scary today...finally after 2 weeks i m wiiling to c the doc le...hmm..get 4 kinds of medicine..the doc still say if my cough persist after finishing all the medicine..i will need to go back again..maybe to have x-ray...scary...never knew my little cough will become like that..all the medicine make my pay...if i have gone earlier....might not need so many medicine then might not cost so much $$...haha...today suppose go Jonas hse to finish our report but we now online...n not really doing our work...haha...cannot make it la....
True Friends
I m so touched today....dunno how many read my blog...after reading it..all came to ask me what happen n offer their help..though they all did it in diff ways...but i can sense their care n concern..i cried again..but this time is because of the love i felt from my friends....though the probs are still there...but i felt much better now..thanks to all my friends out there...those who have quietly pray for me,scold me,offer help...i appreciate u all
Vexed!!!!!!!
still sick...worse than the past few days...goin to c doc soon le bah..I feeling so vexed today...haiz....yesterday i jus received 2 mails...haiz...regarding bills....so sianz....line was suspend for bout 2 months le..then this two letters came at the same time...saying if i dun pay up within 7 days...they will disconnect the line which means i have to pay another $250 each due to the plan...haiz....where m i goin to find all this $...after i get my pay...i can only pay off a bit...coz still got to give to mission pledge.... :_( Feel like screaming out...feel like having a good cry ...whose shoulders will be there? :..(
Confused!!!!
Thursday, August 05, 2004
Today isn't a very good day for me.......I jus receive news yesterday that i will be moving back to Service 1...i m in new new usher team for only 2 weeks n now i have to adapt to new changes again..haiz...quite sad le..but today durin lunch i was somehow hurt by some words my friend tell me...but i noe its for the good of both of us...haiz..hmm....later i goin for Cell Group n i dun wanna put on a sad face...but i feelin to sad n hurt inside...haiz....hmm...so tired looking at the com...wondering how my mummy is now...she not feelin well yesterday n today whole day din c her online...haiz..
I m feeling so HAPPY today..haha
Wednesday, August 04, 2004
y am i feeling so happy?haha...God have really been so good to me..i jus invite one of the freshman to Mission Impossible n she agreed immediately...n she also bringing her friend..cool...the happiest news is i have hit 65% of my support raising.. =)
yeah..indeed God provides...hee...this 2 is enough to make me happy le..haha...somemore yesterday din have to go back to office...we had staff meetin at Boon Keng n after i finish lunch..its already 2.30...if i go back to office..i will reach bout 3.15-3.30...n i have to leave at 4.30 back to SP...so i called my supervisor n asked if i can dun go back office..he say ok...so yesterday was kind like a off day to me...haha...hope i have something to do 4 the rest of today..anyway today will be a short day..will be leaving office at 4.30 to go back for Bible Study..hee
MISSION IMPOSSIBLE
feeling bored on 9/8/2004?Its national day..but wats up...i got something interestin to make ur day fruitful instead of slacking at home...wat izzit?yeah...its
MISSION IMPOSSIBLE
.

.

.

Wat izzit about?we will be goin to Pasir Ris to enjoy ourselves...a series of games but i can be sure u will enjoy it...yeah...anyone interested pls contact me or email me at ser0214900@hotmail.com
Feeling sick
hmmm..me dun have friends yet for Mission Impossible...hmmm...but i believe i will bring friends that day coz God will be bringing them to me soon...haha...this morning when i wake up..i have no voice...hmmm...when i reach office...a bit voice only and my "nanny"(haha..she only 6 yrs older than me) in the office pass me a cup of water..so now beta le...still can talk but not my original voice..sob sob..i miss my voice...hmm...this weekend have been so fruitful for me...esp yesterday...hee...hmm...i was being delivered of all bitterness,hatred n unforgiveness...i thank God for His presence there...yeah...
Tired!?!?
Its monday again...the day that most people hate most, because it signifies beginning of a week toture...haha ya thats how most people feel, especially if you are doing things that you dont like. Well, I am now in this attachment that I love and hate at the same time. I love the flexibility and the people here are not too bad, but this kind of job is not really what i like, so...er...how to feel? But I know this job is chosen for me by God so I guess i must love it! because God will always give me the best! Haha...so tired today, have to take cab to work because I have a tiring day yesterday but I am still happy. Tired but happy because the things that i do have a purpose. I guess it is really important to do all things knowing your purpose in God. And nothing excites me more than doing God's will. :)
Looking forward to mission impossible, really want to pray for harvest and retention rate. Hmm I am now thinking about how many friends I can invite? :) Ser....what about ya? any friends yet?