Wednesday, December 26, 2007
Online Videos by Veoh.com
Saturday, December 22, 2007
wow..today svc was very good...towards the end of the drama i cried...and when we begin to light our candles and sang silent night...i jus kept crying..have celebrated 7yrs in church but this is the 1st yr i felt this way...really thank God that He gave us His son...this yr..i have gone througha lot and indeed God have brought me through,..i was full of thanks in my heart thus this christmas is very diff for me..God's presence was so strong...this yr is also a breakthrough for me..after so many yrs..finally i have more than 1 friend coming svc..this yr i have a total of 4 friends coming...though my cg mem bringing more..but to me..i have done my best and i m happy for these 4 friends coming..rejected by many but i dun wanna give up...God have been so nice to me,..felt the love among friends and from God...i really want all my friends to experience this love i m experiencing now....
Thursday, December 20, 2007
MY BELOVED N317....N317 I LOVE U GUYS LOTS...thanks for being my friends n showing care n convern..ELEANOR...I DUN WANNA SEE U GO... :_( but i hope u can grow more even there...see u in 5 mths time...i will surely go pick u up..my promise...I WILL MISS U....DO rem to call us...i noe u also can't bear to leave us...all the best gal...rem FRIENDS ARE FRIENDS FOREVER...
Wednesday, December 19, 2007
today was so tired...i woke up early to go and teach tuition..was so tired...cause not feeling well..after tuition..went to the doc and make in jus in time for work at 11am...hmmm...the doc say is throat infection and that inside my throat is red..hmmm....though have mc but still went to work cause not enough teachers somemore centre having christmas celebration today...but was upset when i heard what aunty say...today auntycook western food...Helen told her:"wah..so many good food thats y someone sick also come sick.."i was very upset upon hearing it..even went toilet to cry..haha..too emo liao...i wanted to go into her office and say i was sick from mon till now...but i did not take mc cause nt enough pple...of course i did not do that...hmmm...had a great time playing with the children today...one of the game is pass the pressie...wegotta pass this present ard and whoever got the present gotta unwrap the present and do the forfeit and at the end..there is a big big present for the last person...then we played treasure hunt..the kids are so cutre...they were very near the things that should be found but they could not see it...then we have gift exchange...Jolene got my present and i very happy cause i know she will put it to good use and she had been wishing for stationery...i got pam's present...knew what wasd it cause i went to get with her yesterday..after that is teabreak..the children all got a goody bag each and popcorns by Jing from cold storage...hmmm...then is tv time...going to teach another tuition tonight,..pray that i will get back my voice...christmas coming..dun wanna miss all the good food...of ya...today aunty cook western but i did not eat the nuggets and the fries..and i drank 5 bottles of plain water..break my record sia..haha...those who know me knows that i dun drink water de...hee...looking forward to the long holiday ahead :)
Tuesday, December 18, 2007
Last sat was our christmas cg...had a great time..thank God that Jia Ying n Weide came..so long din bring friends le...had a great time..then went to buy michelle's present then went for G4S3 bbq outing..reach super late but was happy cause saw Pris..now they move to jurong west..seldom see her n wendy le...wendy was nt there..on sun she told me she slept since sat noon till sun morning..haha..guess everyone is tired after their camp...but really wanna praise Judy...though she had camp n her own cg bbq..but she still plan the food for the section bbq...hey gal..how i wish i can help you but got christmas cg tt day....hmmm..reach home like bout 12am..tired and sun serving Alpha 2...lost my voice due to all the shouting...haha...after svc..got prayer meet...i suddenly jus felt i love N317 a lot..i felt diff in this cg than all the precious cg i have been to...thanks to all the members...my love for u guys jus kept growing...haven been feeling well..lost my voice n kept coughing..somemore these few days kept giving tuition so hardly rest...very happy i finally have 1 confirmed friend for christmas service after asking 30 people..a lot of my friends going overseas cause its like a long weekend..they jus need take fri n mon leave...they have holiday from thu-tue...like my company...we close from thu-wed....then sat n mon half day..me n jing taking each...oh ya..talking bout the friend coming..i noe her when i was admitted into the hospital last yr...she was the nurse there...i have been reaching out to her for 1 n half yr...but she always have duty on sun...but jus now she say sun she off...so going with her to the jurong west svc...as nick is bringing 8 friends...wow wow wow..so proud of u nick...though bz with rehearsals n proj...u still reach out to ur friends...shall stop here..going to take a rest...jus vomitted n klep coughing non stop...guys..pls pray for me ya..got so much to blog..but gotta stop...oh..was listening to the song "Friends r friends forever"..upon thinking of eleanor...i cried...haha..those in my cg should noe why bah...
Friday, December 14, 2007
last night was a great night...thanks to those who were there at the GIBO(Girls In Boys Out) night,,it would nt have been a success without all of u..
minghui, jean, Justine, gwen, eleanor, huiru, See wan, louisa, vera, rachael, jingwen, nadia, charlene, jane tor, jeraldine!
yesterday all the students left by 6.30pm...thank God for answering my prayer....took a cab down to jean's house for GIBO night...reach jean's place at 7.15pm..and we started to set up the place..having our manicure and pedicure station...and also out facial station...at bout 7.30...the rest arrived...we started by eating...haha...then we have ice breakers like Wacko and animal game...well...quite a number of us got forfeit and we have to do our cg's fav banana dance...hee...after that we start our GIBO night...haha...at 1st me,justine and minghui help Jeraldine,vera and rachael to do facial...after tt no business le so went to help out at the manicure n pedicure side..we had fun chatting and painting's each other's nails...esp See Wan dealing with Jean's toe nails..haha...at the end of the day..i got my nails painted too by Jane and stickers on it by Hui Ru....haha...later minghui,hui ru and i took a cab home...so tired sia...hee..but it was really a fun night :)
Tuesday, December 11, 2007
yesterday wrote bout day 1..so today going to write bout day 2...
Day 2 (04/12/07)
we woke up at 7 plus..we had our morning exercise led by Jo Peck..did some exercise and ran 2 rounds...proud of Issac..He did not stopat all..he jus kept running with the encouragement of some team members...those who know Issac will know whyi say this..hee...hmm..after that it was timefor breakfast..yummy...after breakfast...we went to pack our room and tidy up before going to the AVA room for our morning session...it was led by Jerb and she thought us on prayer..everyone was given a copy of the prayerworks cd...after the session..we saw the score chart...oh no..guess where is Abraham...we shouted and cheer...everyone thought we in top 3...no la..we number 9 out of 12...a lot pple ask us why we cheer...we jus say cause we very happy we not the last...cause we practically lost every station int he 1st day..though we are no.9 we are very happy..hee...easily satisfied...i told my team...let us not focus on the prize..but be it the games or drama..let us just have fun and try our best...we had a relay after the session and our team did quite well...then we had the cooking game...we had $500 in paper then we got to bid for food...we are given mass tin to cook..like those army guys...think shaun is really smart..he ally with team gideon so we pull our money and share the items..haha..in the end all the other teams did that too...thank God Raymond came and he joined our team..else we be in a lost nt knowing what to do..can u imagine the egg we cooked fell into the drain when i was passing the thing to xiao lii...haha...then jane,raymond and i "cook" the food while the rest have their lunch and fill the water bombs...after presenting our food to the judges..it was time for us to get wet...well..we have 3 armour bearers in each team...and if 1 armour bearer is dry...the teamgets 50 pts...and 1 ice cream stick1 pt..we have to send people out to take ice cream sticks from others..oh...for the armour bearer..a piece of cloth is pin at the back...so we got to protect it..not to let pple bomb it wet..hee...for my team...huiting, kenneth and i are the armour bearers...mine and huiting's was dry after the "war" ended...so we have 100pts...plus we have 43 ice-cream sticks..we have a total of 143 pts...i was kind of dry..but when i went up the steps..Alfred our half pail of water on me...i was wet....then i went down hug minghui cause she was dry..haha..then i went up..forgot who le also from e99 pour me water...was completely wet..then tinghuan come with her water bottle and u can guess what she do la..everyone was splashing water on me and i went ard hugging those who were dry...the whole game ended ard 4plus then we need gather at the hall at 7 for the finale...oh my..still have discuss bout our drama by then..my team din want to waste time waiting for our turn to shower so weCwrite the script.,..Raymond think that is a great idea,..hee..in bout 1 hr plus..we got our whole drama out...
The Cast
Abraham - by Kenneth
Sarah - by Shaun
Issac - by Issac
Stars - by Serene, Jane and Ischel
Midwife - by Xiao Lii
Narrator - by Emilie
God's voice - by Edwin
Sarah's friends - by Raymond, Alfred and Chao Han
Angel's voice - by Xiao Lii
Maria - by Serene
Ram - by Chao Han
the drama was reallyfunny...nt sure got the video or not..if yesw will post up...can u imagine 4 brothers acting as ladies..haha...think my team work well under stress..we got the drama out like 2 hrs before the thing starts n its jus as we act, we write script...we got our actions for our cheer out 5 mins before we enter the hall..we still practising inside the hall when the groups start coning in..before the drama starts...they show the score chart..again our team scream n shouted..this time we ar not no. 9 but we have climb all the way to no.2...praise the Lord...all of us were so happy...cause of the water bomb de..a lot team their armour bearer wet..we had praise and worship then my team was the 1st to put on the drama..then noah and another team,...then there was word...Jerb shared bout 2 hindrances..pride and insecurity and she begin to share her story...then another 3 teams put 0n their drama..then Shing shared her testimony...after all the teams have acted..its was a nervous time...where the winners will be announced...Gideon got 1st and my team got 2nd...we lost them by 40 pts..heard tt all their armour bearers were dry..so was thinking if kenneth was dry/...overall we would have won them by 10 pts and be 1st...but we were happy enough to climd from no.9 to no.2...the highest pt for drama is 30 by team Samson..they were really good with costumes..haha..our drama was 2nd with 24 pts..after the whole thing we sand the song Friends are friends forever
after that we went ard hugging each other...int he end before we end..we sang the OH OH..RUNNING WITH YOUR FIRE..we went ard the hall and form a long chain running about the hall...it was tiring...but fun...we had supper...i met up with my team to distribute the things in the hamper..in the end i din get a lot of things...haha...all gave to them...then n317 and see wan did some sharing...at bout 3 plus..we went back our room..me,jayme,see wan, gwen and justine...we prayed for each other and see wan fell asleep...hee...we had a great night...
Day 3 (05/12/07)
it started to rain in the morning..thank God that it did not rain during the camp..we stayed int he canteen taking pictures..hee...
All the team leaders with Bro Ed(Eugene & Weiliang went home le)
after that..Jane,Vera,Justine,See wan,William, Ravi, Richard, Jeffrey, Gwen and i went to Kovan KFC for lunch...Jane and Vera left after eating..the rest of us stay and play games in KFC..Jeffrey left at bout 4pm..the rest of us continue playing..at biut 5pm...we began sharing our testimonies with each..it was amazing how God can use diff peoplewith diff past/background..See wan, Ravi, Richard and i went to Kovan Hong Kong cafe and eat dinner and stay and share how we wanna rise up...we wanna be there for each other...forming a group and asking people to join us..so we be there to encourage one another when we are nt doing well in the midst of rising up...when we need people to talk to...ravi and richard went to buy cards..me and see wan chat till i felt the presence of God in the cafe..wow..still rem tt day..we left at 10.30pm..none of us was tired but we are excited...even up till today..God showed up in the camp and now we all have grown..i think N317 have move in..be it in cg..wanting to rise up or even in reaching out..yeah man...almost everyone is N317 wanna be cgl... =)
Monday, December 10, 2007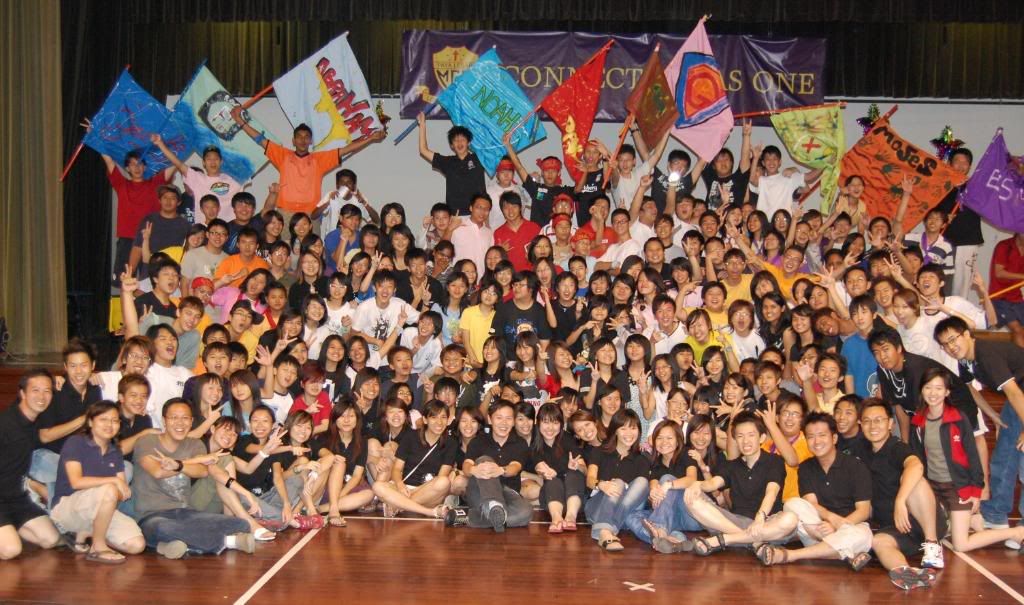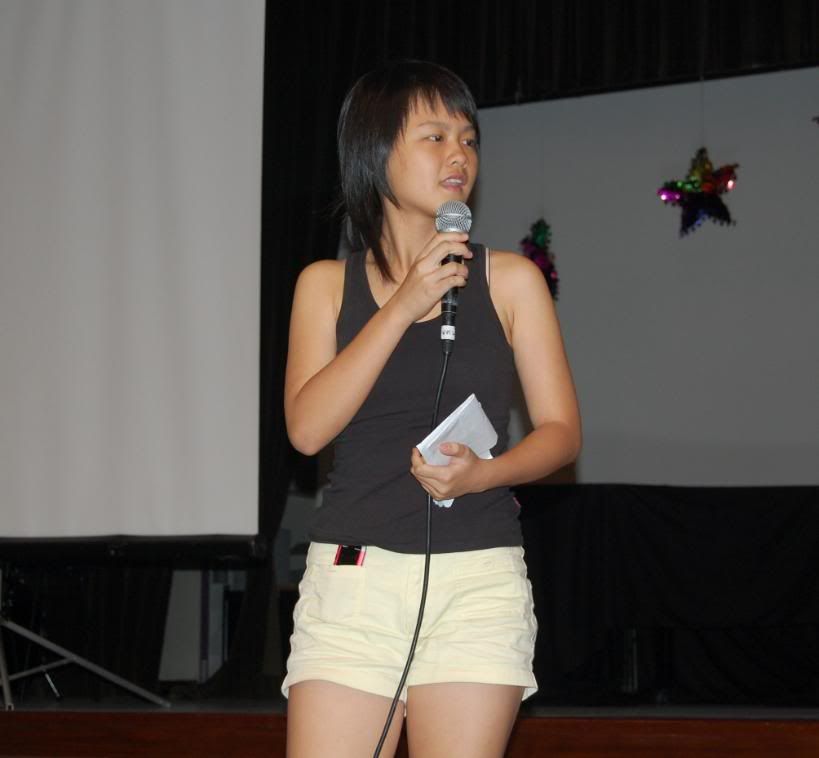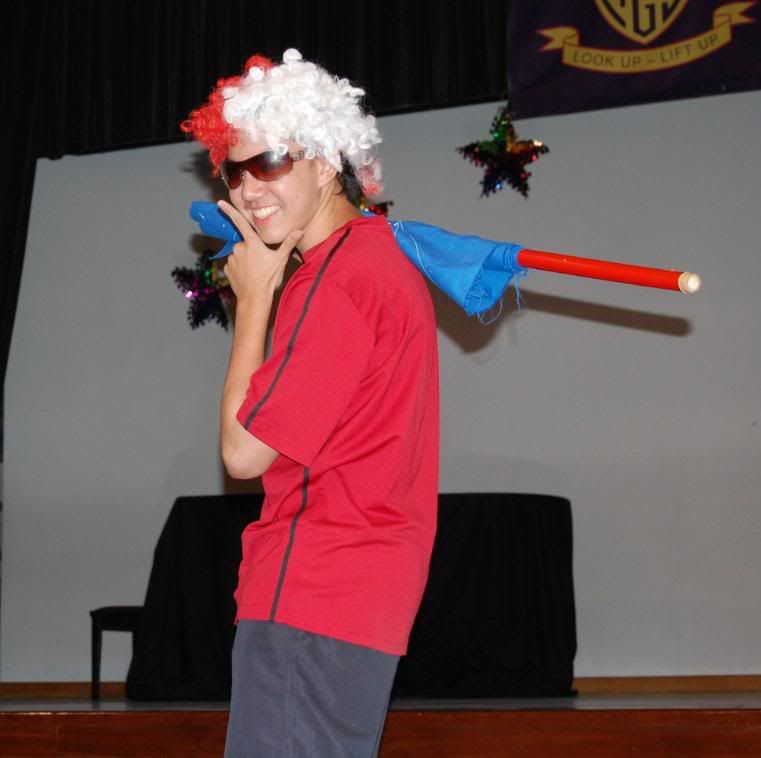 Saturday, December 08, 2007
WOW...BREAKAWAY CAMP was simply GREAT..till now inside of me..i am still exploding...
Day 1 (03/12/07)
I woke at at 6am all ready for BREAKAWAY CAMP...its at PLMGS located at Lorong Ah Soo...took at train all the way down to Serangoon and change a bus there...i reach there at 8am...began to help the leaders paste some stuff and registration started...by 9am...more n more people came in...we gather in our group and practise on our cheer...my group members are Shaun(Assisstant team leader), Edwin, Issac, Emilie, ...our cheer goes like this :
A-B-R-A-H-A-M...YOU CAN CALL US ABRAHAM...ABRAHAM WILL BE THE BEST...WE HAVE POWER WE HAVE MIGHT...WE WILL SHOW YOU ALL DAY NIGHT...WE WILL BEAT YOU FLAT ON SIGHT...AHHHH!!!ITS SHOWTIME
...
At bout 10am...we start off our camp with some ice-breakers...all the 12 team leaders are bacteria and the rest of the members are healthy people...but once the bacteria touch the healthy, they become bacteria and eventually form up a chain...it was really tiring for me sia...have been running about..that day jus chasing the healthy people...i nearly drop dead...was breathless...haha...even fell down while chasing after Debbie...then after 2-3 rounds..they change the bacteria to those wearing red t-shirts...no diff for me cause i wearing red...after we gather...i was so so so tired...haha...but that did not stop my excitement for the upcoming games in the camp...oh ya..forgot to mention that i was one of the team leader...my team is Abraham...the rest of the teams are Moses, Elijah, Noah, Esther, Paul, Gideon, Peter, Jacob, Samson, Joshua and Ruth... after the ice breakers...each group is given newspaper and 1 masking tape..we are to build the tallest tower using the newspaper..it was really teambuilding..everyone brainstorm as we slowly get the tower up...after that it was time to take all our belongings to our room...so happy that me n see wan in the same room...the 4 teams in my room is my own team, team samson,ruth and gideon...we went to the ava room for camp briefing and we went for our lunch...we had fried tice for lunch and after lunch..we went to collect our cloth from the leadres to do our flag and our team identification...will post the pic of our team flag antoher day...haven got the picture yest..after designing our flag..we went to the ava room for praise and worship and the afternoon session preach by Bro Ed..he taught on how to be a winsome person...

Concern
H
elp
Action
Results
Influence
Sensitivity
Motivation
Affirmation
Look at the 1st letter of every word and put it together,,it is the word Charisma...I wanna be a winsome person..wat bout u...after the session...we had our fun and dirty games...the 1st staion i went to was win,lose or draw...the team leaders are to go up to the 2nd level and prepare to throw those disgusting mixture on the opp team if they answer wrongly...if they ans the question correctly..they are spared..else mixture like plain water or egg+flour+water or flour+water will be poured onto their heads...after that we went to play the number games...there are all the numbers displayed on the floor and we have to step on it in sequence...but nt all numbers are there...at taht stn...Jared told us our team and team paul are the spy for the night game...wats the night games about...it will happen in the middle of the night when all are sleeping..it might be the 1st or 2nd night..we will not know...then you have to find a blue lightstick and form a group of 4...after getting into 4..find the guardian angel who are either dress in all white or all black...but dun get caught by the policeman who will have a red lightstick with them...if u get caught..u will be "tortured"...if happen that among the 4 that is in a group..there is a spy..the whole group will also be "tortured" and after which all 4 will be spy...so that night...i sabo quite a number of peope..hee...after the number game station. we went to play the spiderweb stn and netball and sicssors-papre-stone stn...except for the 1st stn..my group lost all the remanining ones...we went for our shower then our dinner....then we had our night session when suddenly the camp people increase as the poly people come in n join...Bro Ed share bout building on our basic foundation


Faith
Ask
Submit
Trust
Look at the 1st letter of every word and put it together,,it is the word

Fast

...then Bro Ed begin to lay hands on us...God spoke very clearly to me during this session..before the session...when i saw that i could not lead the team at all...like they dun really listen...everyone always talk at the same time that u can hear no one talking at all..was crying when having my shower...i ask God why am i chosen to be a leader..and He spoke to me on my bday of being a cgl...i ask God if He really want me to be a cgl...i dun even possess the leadership skills... He gave me this vision before that i will be a ministry leader..then i was confused between this 2 callings God gave...then when Bro Ed lay hands on us..God told me that i will acquire these leadership skills thru the days when i am a team IC..it became so clear to me that God wants me to be a cgl...hee...that night after everything..we try to get our script the drama out...but we din manage to do anything...in the end we jus went to slp...at 2am..we all woke up due to loud noises...itwas the leaders..haha..the night game had began..there were people screaming...cause water bombs are thrown at us..and pails of water are being splashed at us...meand jayme kept running away fromthe police...then bernice,one of the police caught jayme so i ran alone...finding lightsticks...but icould not find any,,then jayme join me again not long...we found swee min and another friend...4 ofuswent finding lightstick..swee's friend found one then we went to look for the angel...not knowing that i am the spy..i told steph the secret code "bubble tea" and she send us to the torture house which is the hall..but everything soon ended cause there were complains and the real police came,..din even have fun sia..hee..then we went back to our rooms to sleep...the few of us could not slp and we began sharing...see wan,jayme,jane and me...we began to share what we have learnt in the afternoon and night session..wat have impacted us...so i shared bout God wanting me to be a cgl..jus told minghui that i accept her challenge...the challenge she gave me of being a cgl when i jus came to N317..hee....wow...such a long post only day 1...will post day 2 another day =)
Online Videos by Veoh.com